Gaby Zipfel, Kirsten Campbell and Regina Muhlhauser (eds), New Delhi: Zubaan Books.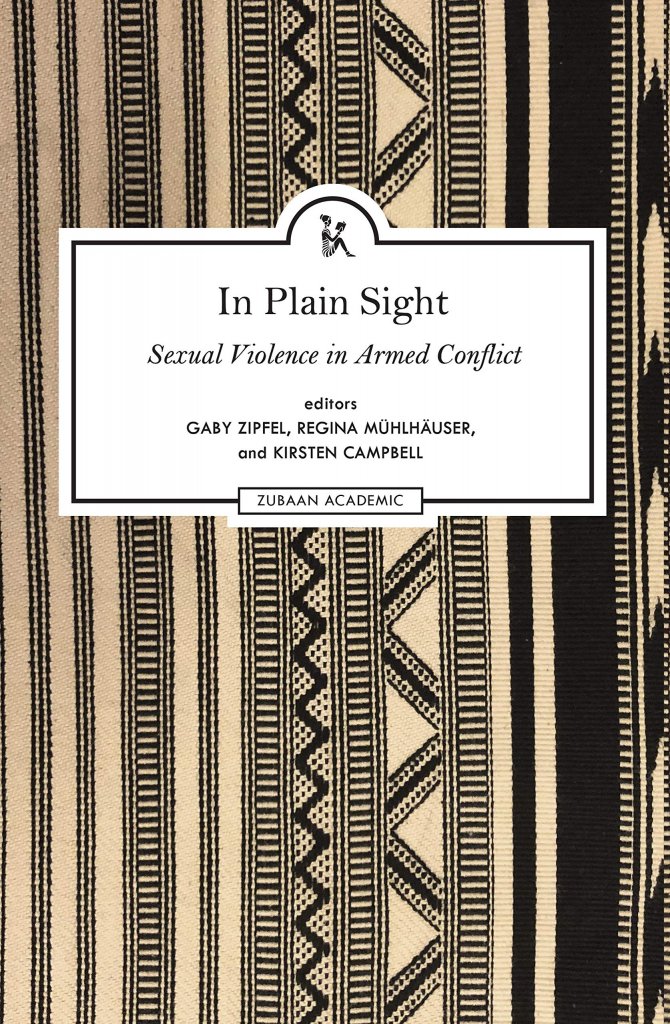 In Plain Sight: Sexual Violence in Armed Conflict, a collection of essays edited by Gaby Zipfel, Regina Muhlhauser, and Kirsten Campbell, offers a synthesis of the work by members of the International Research Group Sexual Violence in Armed Conflict (SVAC), an inter-discilplinary and multi-institutional initiative founded in 2010, and a summary of the state of the field of research examining sexual violence in armed conflict. The book emerged from a conference commemorating 40 years since the publication of Susan Brownmiller's foundational book, Against Our Will: Men, Women and Rape. This endeavor addresses the extent to which our understanding of sexual violence has developed since Against Our Will mainstreamed the notion that sexual violence and rape represent politically powerful tools to control women.
A central objective of this book is to revisit and recenter theory in the study of sexual violence in armed conflict. The authors note that despite increased attention, "essential questions such as the practices and politics of 'doing gender,' to the intertwined nature of violence and sexuality, have increasingly disappeared from public political, and academic discourse about sexual violence inarmed conflict."[1] The book thus represents an effort to re-gender the study of sexual violence in armed conflict and several of the contributions interrogate the relatonship between masculinities and sexual violence.
This interdisciplinary work draws from a wide range of disciplines that contribute to SVAC, including history, sociology, and cultural studies. The volume includes historical essays and reviews of modern manifestations of sexual violence in armed conflict, but also contributions that conceptualizes the relationship between the performance of gender and sexual violence, and reviews of how such violence is portrayed in popular culture and the media. The book is organized into four sections: War/Power, Violence/Sexuality, Gender/Engendering, Visibility/Invisibility. Across more than two dozen chapters, the book provides interesting theorhetical approaches to the nature of sexual violence in conflict and its relationship to other forms of violence and sexual violence in times of peace. Additionally, the book includes several case studies of sexual violence in armed conflict, including an examination of Japanese "comfort women," sexual violence in the World Wars, the DRC, and how the notion of sexual violence shapes Hindu nationalism in India.
The book is at its strongest when it puts members of the SVAC community in conversation with one another. This is done most clearly in one of the introductory chapters, "Gaps and Traps: The Politics of Generating Knowledge on Sexual Violence in Armed Conflict." This chapter allows multiple authors to respond to the same question, bringing to bear their case specific knowledge to discuss the different approaches to conceptualizing SVAC, how it has changed over time, as well as the methodological issues relating to approaching sources when researching such a sensitive subject.
Generally, the book succeeds in enabling a conversation between authors who directly address the same topic . This is done particularly well in three chapters on the role of the threat of sexual violence and the performance of gender in Hindu nationalism. Sen's "'Stabbing, Slicing, Wounding," Urgan Hindu Nationalism, Public Knife-Distribution and the Politics of Sexual Vulnerability in Mumbai, India," Mlinarevic's response, "Nationalism and the Patriarchal Order," and the final piece on "The Ambiguous Role of Women in Self Defense," by Sen provide a fascinating back and forth on a moder manifestation of politics, performing gender, and the ways in which the implicit (or explicit) threat of sexual violence characterizes women's lives and modern political appeals in India.
This book also makes physical and intellectual space for several standout contributions that do not fit neatly into existing disciplinary silos. Yang's 'Finding the 'Map of Memory': Testimony of the Survivors of Military Sexual Slavery by Japan' is both substantively illuminating and provides an invaluable discussion of the difficulties of data collection on such intimate and personal experiences of violence. Similarly, Du Toit's "Resisting the Symbolic Power of (War) Rape," which discusses how the current treatment of wartime rape in discourse may make this violence more common and impactful, provides a meta-approach to our discussions of sexual violence that is often absent from other studies.
Though the book collects a number of different theoretical approaches to understanding sexual violence in armed conflict from the members of the collective, there are missed opportunities to engage recent and compelling work on this subject. For example, engagement with Holly Porter's 2016 book After Rape: Violence, Justice, and Social Harmony in Uganda, which discusses how the same act of sexual violence can be interpretted differently based on the relationship between the victim and the assailant and other contextual factors, Anne-Kathrin Kreft's work on women's post-conflict mobilization on the basis of shared threat of sexual violence, and Milli Lake's work on gender justice and advocacy in the Democratic Republic of Congo and South Africa would have put this work into conversation with theory-grounded, empirically driven work, and would have strengthened the book's empirical and theorhetical contributions.[2] Engaging with such work would have allowed the authors to more critically evaluate how victims of sexual assault conceptualize their experience and incorporate these perspectives into theories about what differentiates sexual violence in conflict from sexual violence in times of peace.
Similarly, many of the contributions would have been strengthened by engaging with some of the concepts developed in recent years by comparativist political science research on the subject of sexual violence during conflict. The differentiation between the use of sexual violence as an endorsed policy as compared to a tolerated practice for example, could have added nuance to many of the contributions in the book examining specific instances of sexual violence.[3] Doing so may have provided a platform for these authors to contribute to a growing literature on how organizational culture and structure impacts the nature of armed groups' interactions with civilians. It would have certainly given the authors the opportunity to more thoroughly interrogate the variation in the degree and nature of sexual violence across conflicts identified in the book's introductory notes.
A shortcoming of the book — and a struggle for many edited volumes — is that it was somewhat disjointed. The book's organization by theme rather than issue area results in isolated discussions of some case studies in multiple chapters. This is particularly frustrating as a reader, because the book puts authors into conversation with one another to great effect in other sections of the book.
Ultimately, this book offers a contribution for those looking to immerse themselves in some of the most recent feminist theorizing on sexual violence in conflict. Those interested in understanding the methodological challenges to researching sexual violence in armed conflict and how approaches to this subject have changed over time will benefit from the introductory chapter, which provides a distilled and diverse summary of some of the most contentious debates in the field.

---
[1] xiv
[2] Porter, Holly. After rape: Violence, justice, and social harmony in Uganda. Vol. 53. Cambridge University Press, 2016; Kreft, Anne-Kathrin. "Responding to sexual violence: Women's mobilization in war." Journal of Peace Research 56, no. 2 (2019): 220-233; Lake, Milli May. Strong NGOs and weak states: pursuing gender justice in the Democratic Republic of Congo and South Africa. Cambridge University Press, 2018.
[3] Cohen, Dara Kay, Amelia Hoover Green, and Elisabeth Jean Wood. "Wartime sexual violence." USIP Special Report 617 (2013).