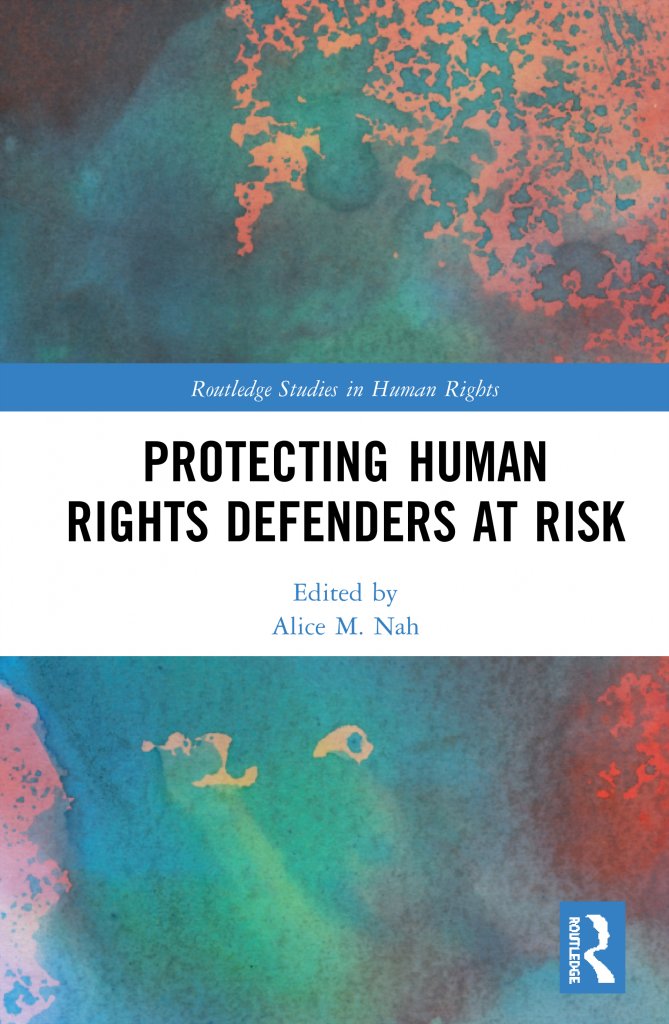 edited by Alice M. Nah, London: Routledge, 2021. 212p. ISBN 9781138392618
"'Seguridad' refers to all the conditions necessary to make human and political life flourish. These are conditions of dignity. But security [to the government] is reduced to a military or police perspective…. People have been sold the idea that the more troops, the more security. More bodyguards, more bulletproof vests, and more armoured cars. The overall perspective is missing."
This quotation from Dr Alice M. Nah's edited collection Protecting Human Rights Defenders at Risk is attributed to a woman human rights defender who promotes the rights of campesinos in Colombia, the country which continues to be associated with the highest numbers of killings of human rights defenders worldwide. Yet, given the pace of securitisation globally over the last 20 years, one could imagine similar observations being made almost anywhere in the world.
This volume, which explores the risks faced and protection strategies employed by human rights defenders in Colombia, Egypt, Indonesia, Kenya, and Mexico, jarringly exposes the paradox of a world made insecure by 'security' and its apparatuses. Given the scale of the crises that humanity currently faces, it is surely in the interest of all to protect human rights defenders and movements, whose diverse emancipatory projects may hold the potential to address them. However, little help appears to be found in a militarised and policing-based model of security which is often tightly historically connected with the root causes of these crises – such as colonialism, patriarchy, racism, and extractivism – and which is therefore blind to the processes which produce defenders' vulnerability.
I first came into contact with the project which would go on to become this book in 2015 as I prepared a workshop with a network of women human rights defenders in Mexico, focusing on digital security practices in the broader context of a 'holistic' approach to protection. One of my co-facilitators was carrying out interviews for the book at the time; as it happened, what we would go through together over those few days would encapsulate these dissonant understandings of security like no other experience I have had. In response to ongoing protests, the federal government militarised the city and overnight our hotel became a makeshift barracks for over 100 federal police. Over the next four days, inside our conference room – the windows now blocked for privacy – our diverse group of land rights defenders, queer folks, journalists, lawyers, and grassroots activists reimagined security from a holistic, intersectional, and feminist perspective. The strategies we explored included those typical to protection planning, but went much further than this, including economic solidarity, use of libre software, secure communication tools, stress management, and collective care.
As we passed through the courtyard that separated our conference room from our hotel rooms, day and night, we experienced a constant reminder why we were doing this. The federal police officers, clad in black with bullet-proof vests and firearms, did not spare our participants and team their wolf-whistles, untoward comments, and even on one occasion a push from behind, as they prepared themselves for their next confrontation with protesters in city centre in the name of a 'security' radically different to ours.
This dichotomy comes across vividly in the case studies explored in Protecting Human Rights Defenders at Risk, each containing lucid and nuanced accounts composed by activist researchers who make ample space for the voices of the activists on whose testimonies the book is based. Each of the studies provides a clearly scoped and structured, deeply disturbing, and thoroughly necessary account of the egregious attacks to which human rights defenders, their families, and communities are subjected. In elaborating their narratives, the contributors do not pull their punches but name, time and again, states' entanglement with economic, religious or criminal interest groups, and the function of violence against defenders as being in the service of specific political and economic ends. What is worse, it is a violence which often comes wrapped in a discourse which associates peaceful progressive activism with 'terrorism' or other threats to national security, unity, values, or morals.
By contrast, readers also find further rich testimony to the creativity and vision of human rights movements, as evidenced by their elaboration of practices of self- and collective care and protection. As reflected in a growing literature which has emerged in recent years, it is in these practices, both formal and informal, that glimpses of a different 'security' emerge: one which recognises and responds to the structural nature of socio-political violence in a holistic manner. In their chapter on Indonesia, for example, Alice Nah and Budi Hernawan highlight the role of neighbourly and kinship ties in saving defenders from attacks in Indonesia; similarly, in their exploration of the socio-geographies of security in Kenya, Irina Ichim and Patrick Mutahi recount the role played by neighbours and communities in informal settlements in warning defenders of potential attacks or mobilising in solidarity to respond to them. Further noteworthy examples of creative and effective approaches to protection among civil society which are highlighted include the unarmed traditional indigenous guards in Colombia, and the intersecting web of protection mechanisms which civil society has developed to fill the chasm left by the state in Mexico. While not without their challenges, these strategies stand in stark contrast to the few existing state-based mechanisms for human rights defender protection which, modest successes notwithstanding, are often characterised by under-resourcing, a lack of political will, and an ill-fitting, individualistic, and policing-based understanding of security. Moreover, and importantly, in their recognition and interweaving of economic, cultural, and social resources within security practices, civil society's protection strategies represent a vision of the indivisibility of human rights in action.
The kind of depth and detail found in an edited collection such as this perhaps necessarily comes at the expense of some breadth. As diverse and emblematic as the country studies are, we are left without exploration of the particular and influential dynamics of the likes of China, Europe, North America, and Russia, all of which matter significantly in the context of the intersectional crises global civil society currently faces. Perhaps reflecting the research methodology, certain ever more common forms of violence against human rights defenders such as digital surveillance or online violence and its gender-based expressions, are also notable for their relative absence.
The many common threads which do emerge, however, are brought together with the eye of an insightful and dedicated practitioner in Nah's concluding chapter, which calls for a 'reimagination' of protection and makes a series of helpful assertions in this regard. Fundamental to many of these recommendations is a commitment to collective and holistic understandings of security and protection as embodied by defenders' own practices: recognition of the importance of family, community, and economy; moving beyond individualistic models; trusting and integrating the wisdom of movements and organisations into state-based mechanisms, and recognising and integrating an analysis of power from a gendered and intersectional perspective.
As such, the book adds significant literary weight to a growing movement in this direction within the protection niche of the human rights field over recent years, and will be a welcome and hopefully influential milestone in this regard. Perhaps beyond this niche, indeed, there are resources here to be offered to the broader debates relating to public security which are rightfully finding their way into the mainstream over the last year. The mass protests in defence of women's and Black lives over the last 12 months have served to further highlight the drastic shortcomings of the currently dominant military and policing-based models, which may well be too bound up with the root causes of inequity to coexist with social movements or a social order which seek in earnest to address them. To be sure, building alternative proposals will require creativity, participation, and context sensitivity of the kind that can be observed in the practices of the human rights defenders and communities in resistance highlighted in this volume. Perhaps, then, it can also offer some visions of what a security which truly reflects 'the conditions necessary to make human and political life flourish', could look like.