A Norwegian political scientist published an article in the Norwegian daily Aftenposten on 17 December where he criticized the 'waning-of-war' argument promoted by, among others, Steven Pinker and 'major parts of peace research'. Curiously, the article was published in the paper's column for 'dårlig forskning, flau formidling, kunnskapsløse politiske forslag og ren fusk' ('incompetent research, poor popularization, political proposals without a knowledge base, and sheer fraud'). The article does not explain which of these mortal sins were committed by Steven Pinker and the peace research crowd.
Be that as it may, below follows my reply to the article. A shorter version has been posted in the comment field to the original article, following a series of other mostly critical and generally quite perceptive comments. An even shorter version is scheduled to appear in the printed paper shortly.
To those of you who don't read Norwegian: Don't worry. This is strictly a parochial debate.
Nils Petter Gleditsch
---
Dårlig forskning eller bare flau formidling?
Nils Petter Gleditsch
Forsker tilknyttet Konflikttrendprosjektet ved PRIO og professor emeritus ved NTNU
Budskapet om at verden blir mer fredelig og mindre voldelig hviler på vaklende empiri, hevder Øivind Østerud 18. desember i Aftenpostens spalte for 'dårlig forskning, flau formidling, kunnskapsløse politiske forslag og ren fusk'.
Han går i denne forbindelse til angrep på Steven Pinker og andre som bruker relative tall for vold, altså antall drepte som andel av befolkningsstørrelsen. Det er vanskelig å forstå hvorfor det skal være så galt å bruke sannsynligheten for å bli drept i krig som en sentral indikator i denne sammenheng.
Jeg tror det ville vekke oppsikt om Verdens helseorganisasjon og Statistisk sentralbyrå skulle legge om all helserapportering til absolutte tall. I USA døde 169 000 barn i aldersgruppen 0-4 år i perioden 2005–10, i Liberia bare 71 000. Er det farligere å være barn i USA enn i Liberia? Det er kanskje ikke helt uvesentlig å vite at dødeligheten (målt per 1,000 fødte barn i samme periode) er 8 i USA og hele 100 i Liberia?
Litt lengre ut i samme artikkel anfører Østerud at faren for voldelig død i 'verdens farligste by', San Pedro i Honduras, er 'mer enn tre ganger så høy som i Bagdad på høyden av Irak-krigen'. 'Faren for voldelig død'? Her griper altså Østerud selv til et relativt mål.
Selv om relative mål nok er mest passende for å vurdere om verden alt i alt blir mer fredelig eller ikke, kan vi også se en klar nedgang i det absolutte antall drepte i kamphandlinger etter annen verdenskrig. Figuren nedenfor viser antall døde i krig fra 1946 til i dag fra databasene til PRIO og UCDP (konfliktdataprosjektet ved Uppsala Universitet). Figuren viser klart at årlig antall døde har gått opp og ned og er sterkt påvirket av spesielt blodige kriger, særlig borgerkrigen i Kina fram til 1949, Koreakrigen og Vietnamkrigen.
Men toppene blir lavere over tid. Hverken borgerkrigen i Syria eller konflikten mellom Russland og Ukraina har endret dette bildet. Hadde vi tatt annen verdenskrig med i figuren, ville tendensen ha vært enda tydeligere.
Det er ikke noen enkel oppgave å måle om verden blir mer fredelig. Den som leser Pinkers bok, vil oppdage at han ikke er ukjent med de problemstillingene som reises i Østeruds innlegg. Det er helt naturlig at det foregår en faglig diskusjon om disse spørsmålene, og vår kunnskap blir utvilsomt styrket av en slik debatt. Kritikk av etablerte sannheter er et viktig kjennetegn ved forskningen. Men om skepsis skal være den eneste ingrediensen, får vi hverken god forskning eller innsiktsfull formidling.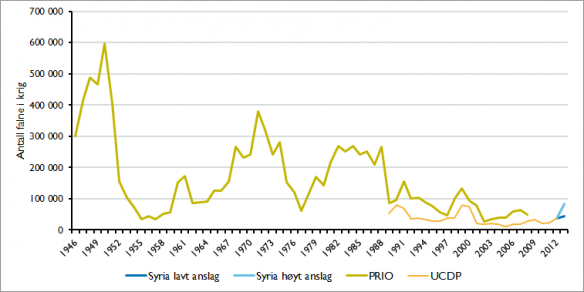 Antall drepte (sivile og militære) i krigshandlinger. Figur laget av Ida Rudolfsen ved PRIO på grunnlag av data fra PRIO og UCDP. UCDPs koding anvender noe strengere kriterier for hvilke dødsfall som regnes med. Denne kurven ligger derfor noe lavere, men med en parallell utvikling over tid. For 2013 er det foreløpig to tall (et høyt og et lavt estimat) pga usikkerheten omkring antall døde i borgerkrigen i Syria. Tall fra andre prosjekter, som Correlates of War Project, viser samme tendens for denne perioden.