The UNDP's Human Development Index (HDI) is a major achievement. It has focused the world's attention on the human aspects of development, highlighting and featuring not just economic gains but also schooling and education and life expectancy. In this, it was a hugely important corrective for a development community that tended to have a pure economic growth -focused agenda.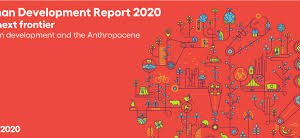 Over the years the UNDP has also refined the index. Creating alternatives that alongside these core human development factors also feature gender equality, inequality, and, most recently, planetary pressure.
But so far the human development index has not included democracy and democratic governance as part of the features they combine when they measure the amount of human development in a country.
This is perhaps not surprising. Democracy remains contested in international governance and for the United Nations talking clearly and unequivocally positively about democracy is still hard, even though the new sustainable development agenda has made that easier. Luckily for us, as researchers, we do not have to take the hurt feelings and animosity of autocrats and dictatorial regimes into consideration. So we went ahead and built a version of the human development index, inspired by the gender, inequality, and planetary pressure (carbon dioxide emissions per person) versions, which includes democratic government as part of the criteria and recalculated each country's score and position on the HDI.
Obviously, one amusing aspect of this is to showcase how countries such as China and Saudi Arabia then drop precipitously on our ranking compared to the original HDI. More importantly, however, there are good evidence-based reasons for why democracy should indeed be featured in a human development index.
A large, and growing, literature has shown that living under democratic governance and having democratic institutions facilitates long-term sustainable development, including economic growth. Systematic research has shown that democracies are better at reducing infant mortality than autocracies. And a host of studies have established that democracy definitely does not reduce economic growth and most likely leads to higher growth.
As such, democracy appears as a core fundamental component of long term sustainable human development and a human development index should therefore account for it.
Fixing this is actually quite easy. First we need a measure of democracy. We have access to good data on the extent to which a country is a democratic system from several widely used and acclaimed databases. We turn to the Varieties of Democracy, VDEM, project and their polyarchy index. The polyarchy index focuses on the primacy of elections.
'The electoral principle of democracy seeks to embody the core value of making rulers responsive to citizens, achieved through electoral competition for the electorate's approval under circumstances when suffrage is extensive; political and civil society organizations can operate freely; elections are clean and not marred by fraud or systematic irregularities; and elections affect the composition of the chief executive of the country. In between elections, there is freedom of expression and an independent media capable of presenting alternative views on matters of political relevance. In the V-Dem conceptual scheme, electoral democracy is understood as an essential element of any other conception of representative democracy — liberal, participatory, deliberative, egalitarian, or some other.'
The polyarchy index ranks all countries from 0 to 1, where 0 is least democratic and 1 is most democratic. This, then, will be our indicator for democracy. Next, we take this indicator and combine it with the other four HDI indicators — life expectancy at birth, expected years of schooling, mean years of schooling, and GNI per capita — and, using the rules set out in the technical appendix for the HDI for combining these indicators, re-calculate the score for each and every country for 2019, the last year for which we have available data.
Before we take a peek at this new index, one caveat is necessary. The HDI, and similar indices, create an unfortunate illusion of precision. The HDI is defined down to the third decimal point and ranks countries exactly in 1st, 22nd, 75th  place and so on and so forth. This approach is perhaps a bit too persuasive and completely neglects the large and inherent uncertainty in the estimation of scores. Instead of focusing on who's in first and second place it probably makes much more sense, and is much more statistically sober, to focus on which countries cluster towards the top or in other parts of the index.
So what happens? The two maps below show the world according to the original HDI, the first one, and the world according to our democracy-HDI, the second one.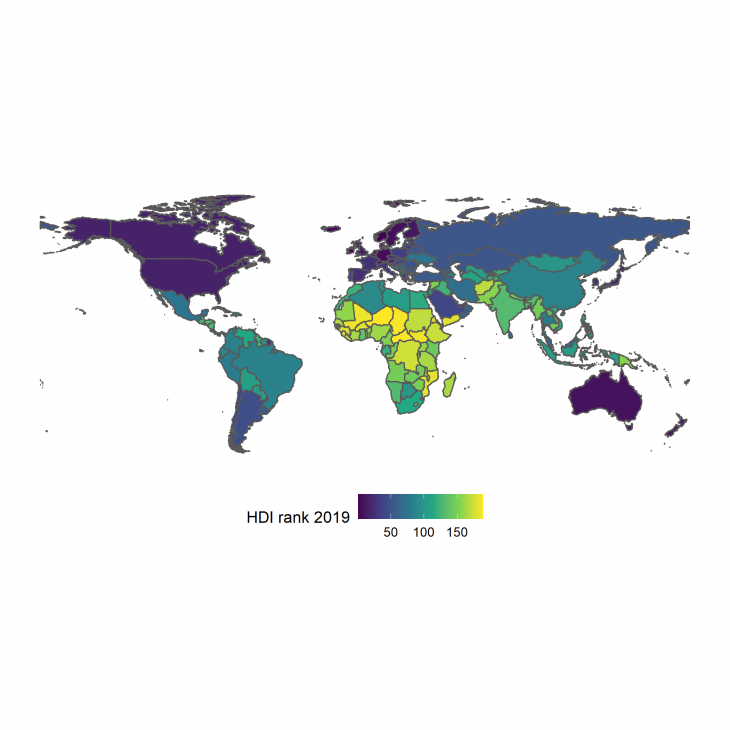 The two maps give a first snapshot at which countries move the most from the original to our new index and if there is any regional clustering. Two tendencies in particular stand out. First, in the set of already highly developed countries, especially in Europe, North America and parts of Asia there are very few changes. These are countries that already scored high on the HDI and who are also democratic. The same also holds for most of South America, although some countries such as Venezuela see deterioration in their scores.
Second, we see the biggest drops in scores across the Middle East and Asia. Fairly rich countries with little or no democratic rule, like many of the Gulf states, fall the most, many of them, like Saudi Arabia, from the top (40th place) towards the bottom (129th place). Similarly, countries such as Russia and China also fall from 40 to 70 places between the two indices. These are countries which do have high, or increasing, levels of material well-being, but where citizens enjoy few or no social and political rights and where human rights abuses, persecution, and repression is widespread. This undermines sustainable development, which is reflected in the countries' lower score when this is taken into account.
On the other hand, we see the biggest improvements in a set of countries that often score somewhat low on traditional development indicators but where some, with emphasis on some, semblance of democratic governance is respected. These are countries, then, where citizens are very much defying the notion that you have to be a developed country to have democracy. The list includes countries such as Cabo Verde, Ghana, Benin, and Senegal and other countries in Africa, but also Jamaica and Timor-Leste.
No one is saying that democratic institutions in these countries are working perfectly, but they do enjoy some basic democratic values and citizens and incumbents are working hard to improve and defend their democratic institutions. These, then, are countries where the peoples' rights are, to a much larger extent, respected. And this will serve them well in their efforts toward sustainable development.
So what is the utility of all of this? As with the original HDI, this index gives you a snapshot of where the world is on the road to human development, where the biggest challenges are, and which countries are performing better than expected.
This new index also provides some much-needed corrective. A lot of talk in development is focused around the 'miracle growers' such as China. More and more research is suggesting, however, that these countries are achieving development in spite of the lack of democracy and that their lack of democratic institutions may undermine long term growth.
A core rational behind the human development index was to center development around people. Democratic governance is the only system of government capable of respecting human rights and individual freedoms over the long run. Democracy enables sustainable growth. This index shows that the answer to the question of what countries achieve sustainable development, changes when democracy is taken properly into account.
Table 1: The Democracy and Human Development Index. The Table reports all countries' rankings on the original and this new index as well as the original and the new scores. The Table is sorted according to the new scores. Note that a negative value in the 'rank difference' column means the country climbed from the original to the new index. Note also that some smaller countries that are included in the original index are not included here.
Country
Original HDI
Corrected HDI
Original HDI rank
Corrected HDI rank
Rank difference
Norway
0.957
0.936
1
1
0
Switzerland
0.955
0.934
2
2
0
Ireland
0.955
0.932
2
3
1
Denmark
0.94
0.93
10
4
-6
Sweden
0.945
0.927
7
5
-2
Iceland
0.949
0.923
4
6
2
Finland
0.938
0.921
11
7
-4
Belgium
0.931
0.919
14
8
-6
Germany
0.947
0.917
6
9
3
Australia
0.944
0.916
8
10
2
New Zealand
0.931
0.916
14
11
-3
Netherlands
0.944
0.914
8
12
4
United Kingdom
0.932
0.913
13
13
0
Canada
0.929
0.913
16
14
-2
Luxembourg
0.916
0.907
23
15
-8
Korea (Republic of)
0.916
0.897
23
16
-7
Spain
0.904
0.897
25
17
-8
France
0.901
0.896
26
18
-8
United States
0.926
0.893
17
19
2
Japan
0.919
0.893
19
20
1
Austria
0.922
0.892
18
21
3
Estonia
0.892
0.892
29
22
-7
Slovenia
0.917
0.885
22
23
1
Italy
0.892
0.884
29
24
-5
Greece
0.888
0.881
32
25
-7
Cyprus
0.887
0.875
33
26
-7
Czechia
0.9
0.873
27
27
0
Portugal
0.864
0.866
38
28
-10
Lithuania
0.882
0.862
34
29
-5
Malta
0.895
0.858
28
30
2
Latvia
0.866
0.852
37
31
-6
Israel
0.919
0.848
19
32
13
Slovakia
0.86
0.848
39
33
-6
Argentina
0.845
0.837
46
34
-12
Chile
0.851
0.831
43
35
-8
Poland
0.88
0.829
35
36
1
Costa Rica
0.81
0.829
62
37
-25
Uruguay
0.817
0.827
55
38
-17
Barbados
0.814
0.816
58
39
-19
Mauritius
0.804
0.808
66
40
-26
Croatia
0.851
0.807
43
41
-2
Panama
0.815
0.807
57
42
-15
Romania
0.828
0.788
49
43
-6
Trinidad and Tobago
0.796
0.783
67
44
-23
Armenia
0.776
0.783
81
45
-36
Peru
0.777
0.779
79
46
-33
Georgia
0.812
0.766
61
47
-14
Mexico
0.779
0.761
74
48
-26
Singapore
0.938
0.757
11
49
38
Bulgaria
0.816
0.752
56
50
-6
Jamaica
0.734
0.752
101
51
-50
Hungary
0.854
0.742
40
52
12
Brazil
0.765
0.741
84
53
-31
Colombia
0.767
0.74
83
54
-29
Suriname
0.738
0.738
97
55
-42
Ecuador
0.759
0.737
86
56
-30
Sri Lanka
0.782
0.736
72
57
-15
North Macedonia
0.774
0.736
82
58
-24
Tunisia
0.74
0.735
95
59
-36
Seychelles
0.796
0.73
67
60
-7
Mongolia
0.737
0.723
99
61
-38
Hong Kong, China (SAR)
0.949
0.722
4
62
58
Botswana
0.735
0.718
100
63
-37
Montenegro
0.829
0.713
48
64
16
Dominican Republic
0.756
0.713
88
65
-23
Bosnia and Herzegovina
0.78
0.709
73
66
-7
Malaysia
0.81
0.706
62
67
5
Moldova (Republic of)
0.75
0.705
90
68
-22
Albania
0.795
0.701
69
69
0
South Africa
0.709
0.701
114
70
-44
Indonesia
0.718
0.697
107
71
-36
Cabo Verde
0.665
0.697
126
72
-54
Paraguay
0.728
0.694
103
73
-30
Ukraine
0.779
0.686
74
74
0
Guyana
0.682
0.68
122
75
-47
Bolivia (Plurinational State of)
0.718
0.668
107
76
-31
Maldives
0.74
0.667
95
77
-18
Lebanon
0.744
0.662
92
78
-14
El Salvador
0.673
0.662
124
79
-45
Fiji
0.743
0.661
93
80
-13
Serbia
0.806
0.659
64
81
17
Namibia
0.646
0.659
130
82
-48
Philippines
0.718
0.649
107
83
-24
Guatemala
0.663
0.645
127
84
-43
Sao Tome and Principe
0.625
0.644
135
85
-50
Timor-Leste
0.606
0.64
141
86
-55
Kuwait
0.806
0.638
64
87
23
Ghana
0.611
0.636
138
88
-50
Vanuatu
0.609
0.634
140
89
-51
Turkey
0.82
0.633
54
90
36
Bhutan
0.654
0.628
129
91
-38
Belarus
0.823
0.615
53
92
39
Russian Federation
0.824
0.609
52
93
41
India
0.645
0.608
131
94
-37
Kyrgyzstan
0.697
0.603
120
95
-25
Nepal
0.602
0.603
142
96
-46
Kazakhstan
0.825
0.6
51
97
46
Gabon
0.703
0.597
119
98
-21
Algeria
0.748
0.595
91
99
8
Iraq
0.674
0.591
123
100
-23
Solomon Islands
0.567
0.591
151
101
-50
Jordan
0.729
0.572
102
102
0
Iran (Islamic Republic of)
0.783
0.568
70
103
33
Palestine, State of
0.708
0.563
115
104
-11
Oman
0.813
0.561
60
105
45
Cuba
0.783
0.559
70
106
36
Benin
0.545
0.559
158
107
-51
Libya
0.724
0.555
105
108
3
Senegal
0.512
0.555
168
109
-59
Morocco
0.686
0.553
121
110
-11
Kenya
0.601
0.552
143
111
-32
Honduras
0.634
0.55
132
112
-20
Côte d'Ivoire
0.538
0.549
162
113
-49
Azerbaijan
0.756
0.546
88
114
26
Lesotho
0.527
0.537
165
115
-50
Venezuela (Bolivarian Republic of)
0.711
0.536
113
116
3
Papua New Guinea
0.555
0.536
155
117
-38
Myanmar
0.583
0.533
147
118
-29
Uzbekistan
0.72
0.529
106
119
13
Thailand
0.777
0.528
79
120
41
Nigeria
0.539
0.528
161
121
-40
Viet Nam
0.704
0.525
117
122
5
Angola
0.581
0.525
148
123
-25
Zambia
0.584
0.522
146
124
-22
Bahrain
0.852
0.52
42
125
83
Madagascar
0.528
0.52
164
126
-38
Comoros
0.554
0.519
156
127
-29
United Arab Emirates
0.89
0.516
31
128
97
Nicaragua
0.66
0.515
128
129
1
Bangladesh
0.632
0.515
133
130
-3
Gambia
0.496
0.513
172
131
-41
Liberia
0.48
0.513
175
132
-43
Egypt
0.707
0.509
116
133
17
Tanzania (United Republic of)
0.529
0.502
163
134
-29
Pakistan
0.557
0.496
154
135
-19
Mauritania
0.546
0.495
157
136
-21
Haiti
0.51
0.494
170
137
-33
Sierra Leone
0.452
0.49
182
138
-44
Turkmenistan
0.715
0.487
111
139
28
Malawi
0.483
0.487
174
140
-34
Guinea-Bissau
0.48
0.486
175
141
-34
Qatar
0.848
0.485
45
142
97
Zimbabwe
0.571
0.481
150
143
-7
Cameroon
0.563
0.479
153
144
-9
Cambodia
0.594
0.473
144
145
1
Uganda
0.544
0.472
159
146
-13
Tajikistan
0.668
0.471
125
147
22
Togo
0.515
0.471
167
148
-19
Guinea
0.477
0.468
178
149
-29
Congo
0.574
0.466
149
150
1
Afghanistan
0.511
0.464
169
151
-18
Rwanda
0.543
0.451
160
152
-8
Mozambique
0.456
0.444
181
153
-28
Mali
0.434
0.442
184
154
-30
Ethiopia
0.485
0.441
173
155
-18
Equatorial Guinea
0.592
0.44
145
156
11
Djibouti
0.524
0.439
166
157
-9
China
0.761
0.437
85
158
73
Congo (Democratic Republic of the)
0.48
0.436
175
159
-16
Eswatini (Kingdom of)
0.611
0.429
138
160
22
Burkina Faso
0.452
0.426
182
161
-21
Lao People's Democratic Republic
0.613
0.41
137
162
25
Sudan
0.51
0.41
170
163
-7
Niger
0.394
0.409
189
164
-25
Syrian Arab Republic
0.567
0.403
151
165
14
Central African Republic
0.397
0.394
188
166
-22
Chad
0.398
0.361
187
167
-20
South Sudan
0.433
0.347
185
168
-17
Saudi Arabia
0.854
0.346
40
169
129
Burundi
0.433
0.339
185
170
-15
Yemen
0.47
0.336
179
171
-8
Eritrea
0.459
0.288
180
172
-8